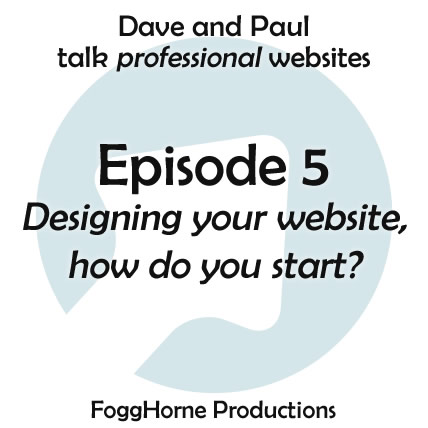 This week in our 30 second read, we're talking about designing your website. How do you start?
The first thing you should do is write down on a piece of paper, What is the website for, what do I want it to achieve?
The clearer the idea is to you, the quicker and clearer it is going to be to your users. They have to be front and centre of what you're doing, so if you can't say in one sentence what the main purpose of the website is, then you won't have clarity, which means whatever you build will not have clarity either.
Put yourself in your users shoes, research your competitors and other websites. Work out what they do well and that might give you inspiration for your own website. Think about design trends. About a year or so ago, everyone was doing one page designs where basically there would be a menu across the top which then scrolled to that relevant section on one. And before that, people were putting lots of animations on websites. Now everyone's talking about core web vitals, which is Google's attempt to speed up loading on websites.
So whether you're designing it yourself or using a professional designer, maybe think about creating a mood board to share your ideas about functionality, colours, fonts etc. Sketch it out in pencil – it's quick, you can easily start again and there's no barrier between what you're thinking and what comes out. Consider the layout and the content you want to show. Does it stand out?
If you're building the site yourself, there are lots of build-yourself templates out there and it helps to have the prep done and an idea for the design. It's worth bearing in mind that a lot of platform builders are easy to use but you do pay a monthly fee, so you are essentially renting it and not buying it. What a lot of people don't realise is that the platform builder owns the design which makes it less portable if you want to shop around for hosting and maintenance elsewhere.
We should talk about the big, website platform that is everywhere, which is WordPress; it's portable and using it's content management system, you can add the elements, structure, menu, text and images you need on your site. But it is slightly more complicated to set up, and that's where Kehorne can help, as we can assign a developer to do that part for you.
A website is never finished, it's not like a printed brochure that you plan to update once a year. That's where a content management system really comes into its own. Publish it, analyse what's going on – it's not set in stone. Decide what's working, what's not and change things. There are some really great free analytics tools out there and they are definitely worth using.
Build yourself, or have it built? We're going into that in a lot more detail in our next Podcast, tune in and listen to Episode 6. Out on the 13th September.