When you have a new website, it can be rather overwhelming can't it? Where do you start, how does it get updated, what bits shouldn't you touch? It's easy to become overloaded and to end up doing nothing — believe us, we see lots of websites which, once delivered, never get touched again.
All this is a terrible shame, so let's see how to make your website more attractive to Google, breaking it down one step at a time in a series of blogs centred around this particular search engine [note: other search engines are available…but best get Google sorted first!]
Get found
Get content
Get found better
Get analysed
Get your website developer on the case (again!)
Part 1 – Get found
Think of a new website like taking delivery of a fantastic racing car, complete with a complex instrumentation panel and a detailed instruction manual. Yes, it looks very nice on the driveway and your immediate neighbours are no doubt aware of it, but you have ambitions to race this car as a business and want to make it famous across the UK, if not the world – so where do you start?
Well, first of all, the wider world has to be made aware of this car; I.e. where it is located, what it looks like, how it can be found…etc?
Google My Business or Google +?
In very basic terms, Google My Business is your business dashboard, whereas Google + is your social platform…or at least was your social platform, as it is being shut down on April 2nd 2019 (presumably April 1st wasn't considered the best date to shut down a service!)
Official definitions:
"Google My Business is a free and easy-to-use tool for businesses and organisations to manage their online presence across Google, including Search and Maps. By verifying and editing your business information, you can both help customers to find you and tell them the story of your business."
"Google+, sometimes written as Google Plus or simply G+, is an Internet-based social network owned and operated by Google. The network launched in June 2011 in an attempt to challenge other social networks such as Facebook and Twitter and it is designed to link Google's products like YouTube."
Google My Business – your first step
To continue our racing car analogy, your first step would be to use Google My Business to advertise your racing car.
This is how a completed Google My Business page looks, telling everybody all about your business details – what are your opening hours, contact details, where to find you on the map, customer testimonials…etc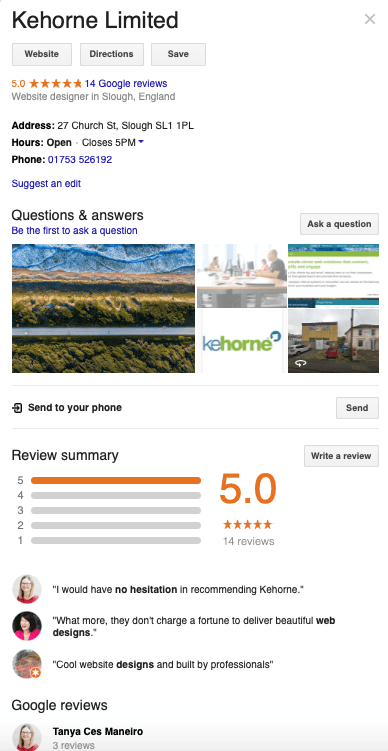 Hence, when anybody inputs, say "Racing car business [your location]" into the Google search engine, a map appears with all the local businesses which match that description. Useful eh? You want to appear prominently on this page, as it's often the first step that any prospective client will take to your front door.

Google Plus – to be closed down and reborn as G Suite
"Given the challenges in creating and maintaining a successful Google+ that meets our consumer users' expectations, we decided to sunset the consumer version of Google+. We're committed to focusing on our enterprise efforts, and will be launching new features purpose-built for businesses."
Source: Google Support
One of the ways we help businesses share information is through Google+ for enterprises.
Having started off as life as a social network competitor to Facebook (which didn't work out), Google+ was then repositioned as "a social layer across all of Google's services", to allow a user's identity and interests to be shared with a wider audience (which also didn't really work out), so now the consumer version of Google+ is being shut down on 2nd April 2019.
Per Google's official announcement, "over the past year, we've been building a new experience that's designed specifically to meet the needs of large organizations with distributed workforces" .
In other words, if you're not a large company with many users and are willing to pay a monthly user fee…don't bother with G Suite for the time being!
Conclusion
In our example, you've now got your racing car business up on the internet – people know who you are, how to contact you and how to find you…congratulations, you have an online presence!
However, to rank higher in searches, you will need to make your website more attractive than your competitors, and the quickest win in this respect is to update your content via blogs…which will be our next topic