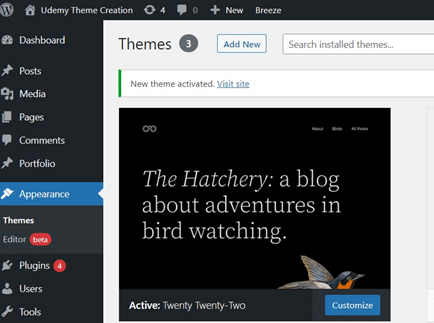 The much-anticipated WordPress 5.9 – the latest version, has arrived. What should you do now? You should do the update but before you do it, take a full backup of your WordPress database and files. It's important to update the core WordPress first and then update your plugins one at a time and check that none of the updates adversely affects your website. I have updated numerous sites with a mix of free, premium and custom themes and all have updated with no issues so far.
This is probably the biggest change to WordPress since WordPress introduced Gutenberg Blocks in WordPress 5.0 back in 2018. People are describing this release of version 5.9 as the second phase of the Gutenberg Roadmap. This release brings Full Site Editing to WordPress so long as you are using a theme which supports Full Site editing ie. You need to have a "Block Theme" activated. If the theme you are using is not a Block Theme, you won't see much of a change on the dashboard and the "old Style" Theme Customiser will still work. However, if you switch over and activate a Block theme, the "Customise" menu option under Themes will have gone and is replaced with "Editor beta".
Also missing, if you switch to a Block Theme, is the old "Additional CSS" menu option. Of course you can still add CSS by installing a suitable plugin. Before adding any additional CSS though, it is worth checking whether what you want to achieve is available through the full site editor. You can now customise styles for the website, globally or at a block level, without writing a single line of code. There is an expectation that this Global Styles interface will improve with future versions of WordPress. For example, you can't yet set styles for button and link states such as "hover", "focused", "selected" etc.
To edit a menu, again only if you are using a block theme, you do this using the Navigation Block. Maybe it is just me, I found this to be a bit fiddly but once you get used to it, it is easy to add or edit a menu. Two benefits of this Navigation block are:
Theme developers can add a Navigation block to a location that suits the visual design of the theme.
When you activate a new theme, all existing menus are available to be reused. Menus created prior to 5.9 are stored as "Classic Menus" and can be transformed into a Navigation Block.
There is a new and improved Gallery Block where you can style images individually. You can set borders and corners and duotone filters on each image in the same gallery.
Another useful feature that has been introduced is the Block Pattern available on the "Patterns" tab of the Block inserter. It means that you can pick and insert a common block pattern like a testimonial block or a CTA Block into a page without having to leave the page you are editing.
If you want to try out these new features, the latest Twenty Twenty-Two theme by WordPress is a "Block Theme". I think this is a vast improvement to the WordPress Gutenberg editor and we might see people deactivating the Classic Editor plugin and giving this a go!
Guest Editor: Kathy Turner, Developer & Infrastructure