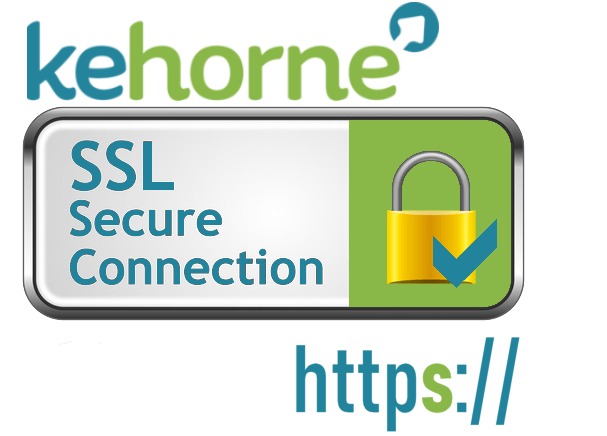 First, we should explain what an SSL is.
The full term is Secure Socket Layer – but it's often also referred to as a Secure Certificate. And what they mean is, technology is in use to create an encrypted link between a web browser and a web server.
In other words, it's a layer of security protecting your website from information entered by anyone else.
To have a secure certificate on your website you need it to pass a series of security checks and then a certificate will be issued by the Certification Authority.
How can you tell if a site is secured?
If you see the small padlock icon in your web browser you know the site is secure. The location of the icon will vary depending on the browser and device you're using, so give it more than a cursory glance to be sure!
Another quick way to check is if the site you want to look at is using https:// rather than http:// – you'll notice the first has an 's' – that's the one you want.
So, let's look at those SIX reasons to install an SSL on your website…
1. Security
If you plan to collect data from your website you need to encrypt it; protecting not only that data but whoever is submitting it.
2. Google 'recommends'…
Since 2017 Google has been pretty strict on security and they've put a warning procedure in place for customers visiting sites that aren't secure. Leading to the next reason to install SSL on your site…
3. A negative first impression of your brand
If a customer attempts to visit your site and it doesn't have the necessary SSL in place a message will appear, warning that customer your suite is not secure. Not only have you lost a potential customer you haven't left them with a positive impression of your company!
4. Data Collection
If you're collecting data of any description you need to have a secure site. For example if your customer needs to complete a form or you're inviting them to leave a comment on a blog post.
And if you're taking a booking or a payment, unless you have an SSL installed the warning will pop up letting your customer know their details are not secure. So, even if they took a chance and ignored the first warning, it's unlikely they'll risk sharing their bank details!
5. Analytics
Most business will have Google Analytics installed on their website to track the results of their digital marketing activity. But remember – no SSL = no results. All you'll see is that pesky warning!
6. GDPR (General Data Protection Regulation) Compliance
GDPR best practices are now firmly embedded in most businesses. Having a secure site ensures you're compliant with the necessary data protection legislation and recommendations.
Bonus reason…
If the reasons we've mentioned are not enough (although they should be!) a bonus reason to consider is that having an SSL will boost your results on the Google SERPs (Search Engine Results Pages).
How do you install an SSL?
The good news is, your web developers will be able to action this for you. Or, if you've built your own website it's likely SSL comes as part of your hosting package – or is available to purchase for an additional fee.
There are also numerous plugins you can use. However, be sure to complete your due diligence and research the best on the market because not all plugins are created equal; and you could end up with issues!
TIP: Whichever way you choose to install an SSL on your website, use 301 redirects to map your old domain (starting with http://) to your new domain (starting with https://). This will ensure your redirects are permanent and any records of your old domain are automatically sent to the new one.
Unlike many of the cheaper hosting sites, our hosting comes with an SSL included for no extra fee.
And, we're here if you need further advice or help to install an SSL on your existing site – just give
us a shout!
If you need further advice or help to install an SSL on your site, give us a shout, we'd be delighted to assist!