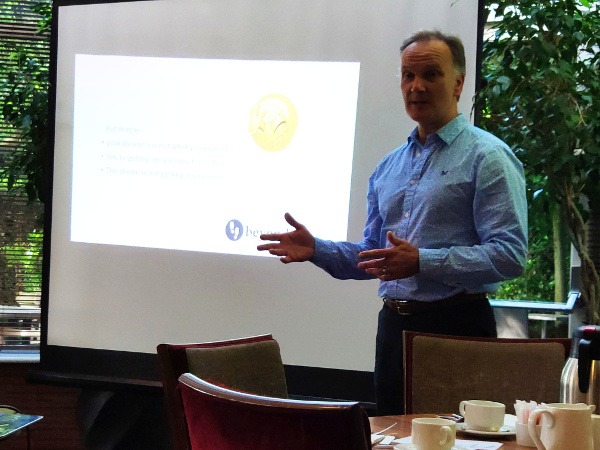 Before I mention what is happening this week I should say that on Friday I was at the local networking breakfast for the Cross Reference group in Gerrards Cross where we had talks from Matt Noble Wright on what to remember when writing content for various mediums – from websites to printed – and how it can be worth getting a copywriter in to write less rather than more because we have such a small amount of time to get a point of view across. We read a website in the F plan – a little difficult to explain without a graphic but suffice to say its a page read top left to right then down and then across a little so the eyes scan in an F pattern.
A classic quote is "write drunk, edit sober"
Then we had Tim Brooker of Beyond Numbers with some great advice on how to analysis your companies trading and how reverse engineering what you need from what you want to earn. Looking down at the number of average deals and average deal value that you then get is a revealing way of thinking as this then eventually leads you to knowing what you need to do to get what you what from your business.
Then we had Karen Pawlowska from Take One TV who was talking us through the importance of video but also on how best to ensure you get engagement, this can be as simple as getting your work colleagues to like and share the work that has been produced, this might be all you need to kick off a proper distribution of your work.
Later this week (Wednesday 26th June) we have some good local networking from the Slough trading estate Aspire centre with some free morning networking from local businesses.
On Thursday 27th June there is a breakfast networking in Burnham at the Professionals Club. A well attended event that I have recently started to go to and so far it seems very busy and useful – although they really need a new website!