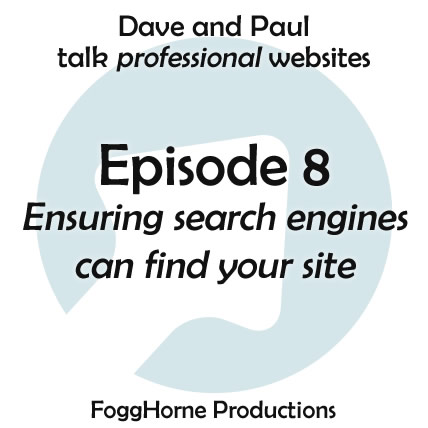 So – you've created a website. What do you need to do next ….. promote it and help people find it. Ensuring search engines can find your site is relatively easy for the most part. The important thing to remember is the 80:20 rule – That last little bit is likely to take more effort and that's when you might want to consider employing someone to help.
Currently the world share of Google is 92% of the market. So it's important to get the basics right; you obviously need to make sure that you've got good content and we talked a lot about that in the last episode of our podcast, you can listen here.
In the past, Google used bots and spiders to crawl the internet and follow links. If your website was linked to others, it went through every page and walked off with all the information it gathered and visited other websites linked to yours.
However, there are now lots of new developer tools to help you set up your website for basic search engine optimisation. The first thing, and most important thing to consider is – what is the actual phrase that someone's going to use to put into Google to find what you do?
It's not necessarily going to be your business name, that's the one phrase that you don't need to worry about too much (it will naturally occur in the content of your website and it's usually in your URL, which is the website address).
What you're actually looking for is that phrase that will bring in business from people who don't know about you. Talk to friends and colleagues who know what you do – ask them how they would find you. Test your phrase, see what results you get in Google and if your competitors are there. There's no point trying to compete with large, global companies for search rankings as they are spending huge amounts of money to appear on the first page of results. Consider your target market and think about a more local or regional approach.
For sites built in WordPress, there are lots of plugins that can help you optimise your website. One of the most highly recommended, and the main one we use is called Yoast. We've also used Rank Math, which is a relative newcomer but also has some useful features (look out for our blog article coming soon, which compares both).
They are both free and allow you to add search terms onto your pages. You should never really use the same search term on every single page, as this would be missing an opportunity to promote what you do. However, even if you don't have that many different phrases, try and make it relevant – about your business, products, services or people.
Another tool we've talked about before is Google my Business. Make sure you register your website there because if you've got results, it's shown in the panel that appears on the right hand side of Google. You can add a picture, your address, a map, opening hours etc.
The other thing we would recommend, which is also free – is to set up Google analytics. There is a plugin you install together with a code and it will give you data about how people are finding your website, which pages they're going to and where they're coming from. You can use these insights to help you focus on how to improve your SEO and your search terms.
So how do I actually set it up?
So we've loaded Yoast and chosen our search term. We're now going to put that into the meta title and add a meta-description,which is a description of what the page is about (when the listings come up in Google, the meta-description is text below the result).
Following the prompts from Yoast, you can then finesse the settings on your page – including internal links to other parts of your website and external links to other sites which may be of interest to your visitor. The other thing to consider is alt tags on images. Every image should have a tag which describes the image. It originated as a tool for visually impaired people but with the vast improvements in website accessibility standards that have been made in recent years, it has now become standard best practice.
By adding your search term into your image alt tag, you also have a further opportunity to improve your SEO. This also goes for content too – base your content around your key search term so that it appears in as frequently as is possible, without disrupting the flow of your message.
Google finding your website is one thing, but how well your website ranks is another aligned issue. We've written an article about Core Web Vitals, which is used as part of Google's algorithm for ranking your website and the content in there. So it's worth at least checking your score to see if you can do anything to improve it – see our blog article here. Get in touch if we can help you check your core web vitals score. Getting higher rankings on search engines means more people and more business going through your website.